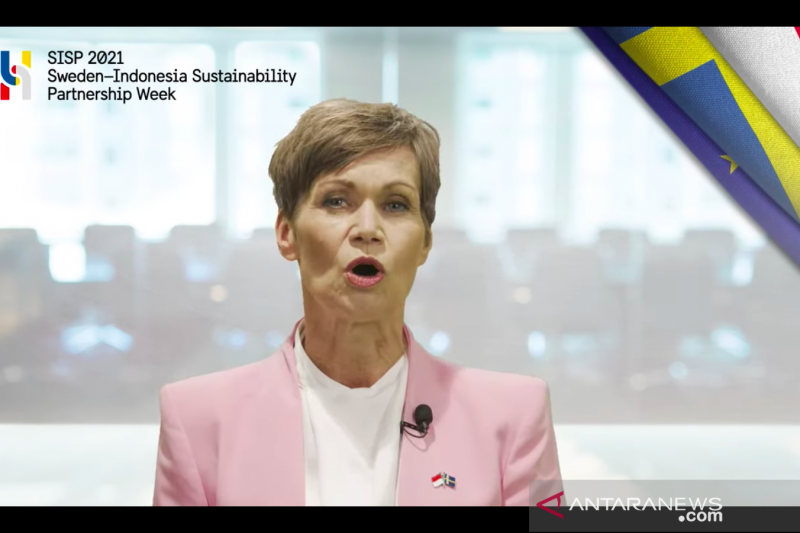 Sweden is pleased to participate in Indonesia's new capital project
Jakarta (ANTARA) – Sweden is looking forward to further committing to Indonesia's ambitious new investment project as it will adopt the concept of smart city development drawn from Swedish experiences.
"We look forward to further engagement as the new investment project moves into the implementation phase," Swedish Ambassador to Indonesia Marina Berg stressed during a Partnership Week webinar. Sweden-Indonesia for Sustainable Development televised here on Monday.
The country has learned of the plan to build a new capital for Indonesia, she noted, adding that it is the first project on the list of collaborative projects in the future.
"Since then, we have been in close contact with Bappenas (the National Council for Development Planning). We are working on the planned master plan for the new capital," she noted.
Berg revealed that during the visit to Sweden with the Minister of National Development Planning (NDP) and Head of the National Development Planning Council (Bappenas), Suharso Monoarfa, they thoroughly explored the subject of the new d immobilization of Indonesia and had examined what knowledge and information can be drawn from the Swedish experience of the development of smart cities.
Related news: Indonesia and Sweden agree to develop blue economy roadmap
Besides Indonesia's new investment project, Sweden's second goal is the development of 5G in Indonesia, she added.
"The main point is how to use technology in Indonesian cities within the framework of sustainable development. Discussions are ongoing," she noted.
Furthermore, the Ambassador is optimistic that Indonesia's G20 Presidency in 2022 will create new opportunities between the two countries.
"We see great opportunities for cooperation to advance the sustainable development agenda during Indonesia's G20 presidency and also during the program in 2023, when Sweden will assume the EU (European Union) presidency and Indonesia the presidency. ASEAN," she explained.
Sweden formulated 10 points for future collaboration with Indonesia encompassing the electrification of Jakarta's bus system; rail development of MRT and LRT; the Department of Transportation's Buy the Service (BTS) program; implementation of sustainable development; new capital; smart grid and energy efficiency projects; energy recovery from waste in Medan, Cirebon and Probolinggo; Citarum River Cleanup Program, Annual Health Forum between Indonesia and Sweden; and hospital innovation and digitization.
Related News: Indonesia and Sweden sign joint declaration on cooperation in blue economy