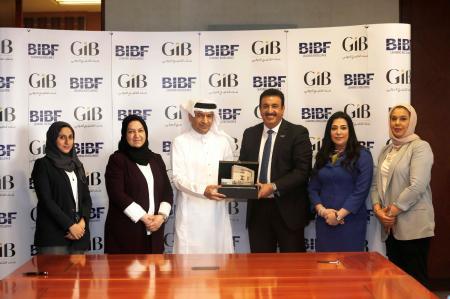 Gulf International Bank Sponsors Conference Hall for Bahrain Banking and Finance Institute
Manama: – Bahrain Banking and Finance Institute (BIBF) announced a strategic partnership with Gulf International Bank (GIB) under which the bank will sponsor a conference room in the new BIBF building in Bahrain Bay, which is expected to be completed at the end of this year. year. The sponsorship of the hall, which will be called GIB Hall, is part of the bank's strategy to support the development of human capital in the labor market.
The new BIBF building, one of the most significant development projects in the Kingdom of Bahrain, is a milestone in the development of the financial services industry in Bahrain and the region.
On this occasion, Jamal Al Kishi, CEO of Gulf International Bank BSC, said: "We are proud to work with BIBF to support this venerable educational institution. The sponsorship reflects GIB's strategy of providing the financial and banking sector with qualified people and strengthening Bahrain's position in the field of specialized training and human capital development in line with the objectives of the Kingdom's Vision 2030.
"GIB is committed to supporting the education sector through important partnerships. The education, training and development of bank employees are avenues that strengthen our efforts to be an employer of choice."
Al-Kishi added that GIB believes in the importance of continuously developing the infrastructure of the banking sector, as it improves the status of Bahrain and increases the leading role that the Kingdom's institutions play at the forefront of innovation. and development in the region.
Dr. Ahmed Al Shaikh, Director of BIBF, said: "We are delighted to have GIB's support for the new building. Strategic partnerships like this enhance training and ongoing development and enable the financial industry to thrive and grow, helping to cement Bahrain's position as a thriving regional financial center.
He added that the BIBF project was launched to respond to the huge expansion of the Institute's programs and activities in Bahrain and abroad as a pillar of specialized training and development of the banking and services sector. funding at local and regional level.
Work on the new BD 12 million BIBF building began in early 2020. With a total area of ​​25,000 square meters and a distinct waterfront, the building will be able to accommodate more students in the future. The building will be equipped with the latest technologies in the field of education, guaranteeing the highest levels of efficiency and innovation and the best services for trainees.
-Ends-
© Press release 2021