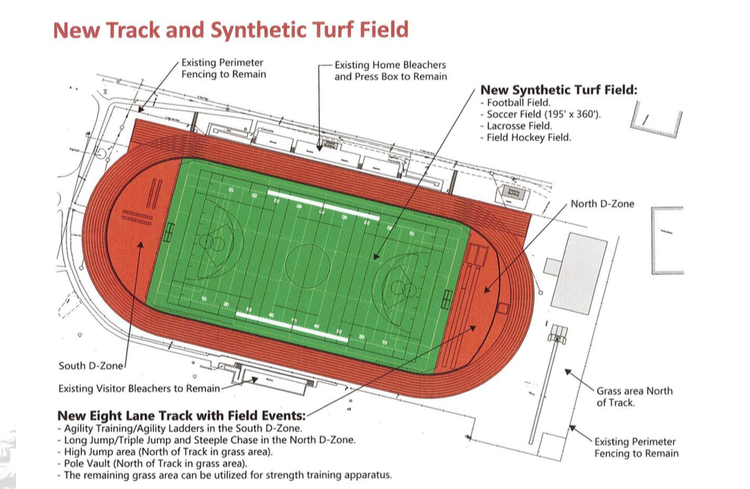 GCSD plans $ 17 million capital project
GUILDERLAND – The school district is planning a $ 17.4 million capital project to modernize its seven school buildings. The school board is due to vote on the proposal on July 27, and the project will go to a public vote next fall.
At the same time, the district decides how to spend federal funds allocated to schools across the country to offset expenses related to the pandemic.
"It's one-time money," said Federal Funds Superintendent Marie Wiles. "It's going to be over a number of years, but once it's gone, it's gone…" she told school board members at their July 1 meeting.
"We have to be very careful that these are costs that are not recurring… We don't want to create something just to dismantle it," she said.
Wiles reviewed the results of a thought exchange 1,107 people participated in online, noting, on a scale of 1 to 5, how they thought federal funds should be spent.
"The infrastructure was huge," Wiles said, noting that the results are posted on the district's website.
Districts must submit a draft federal spending plan by July 15.
Guilderland receives $ 4.6 million from the Coronavirus Response and Relief Supplemental Appropriations Act, to cover expenses from March 13, 2020, at the start of the pandemic, to September 30, 2022. From the US rescue plan, Guilderland is allocated 2.8 million dollars to cover the period from March 13, 2020 to September 30, 2023.
Authorized uses of the $ 7.4 million in federal funds include managing learning lost during the pandemic; provide mental health supports to students; extracurricular and summer learning programs; activities to help low-income students and students with disabilities, English learners, racial and ethnic minorities, homeless students and youth in foster care; hardware and software for distance or hybrid learning; purchase cleaning products or personal protective equipment; improving air quality and ventilation; improve preparedness efforts and coordination; and planning for school closings.
Once programmatic and student-based needs have been addressed – for example, the academic, social, and emotional struggles caused by the pandemic – the district will ask, "What do we have left that we could apply to the project?" Said Wiles.
The $ 17 million plan
Guilderland is still in the process of completing improvements to a $ 31 million bond that voters passed in 2019, after a bond issue was defeated in 2018. The cost has been reduced by 28% from $ 42.7 million to $ 30.6 million.
"The district's approach is to do small projects more frequently, every five to six years," said Clifford Nooney, director of physical facilities management for the district. He compared it to districts that implemented less frequent capital projects costing $ 100 million or more: "You really get sticker shock .." he said. "You don't get the same quality."
The tax impact of the $ 17.4 million Guilderland project is estimated at 22 cents per $ 1,000 of assessed value. The median appraisal of a house in Guilderland is $ 299,000, which would cost $ 64 per year if the bond passed.
For every $ 500,000 of federal funds applied to the project, the median homeowner would pay about a dollar less in taxes per year.
If the referendum is passed, construction is expected to begin in October 2022 and end in August 2024.
A committee was formed to assess the needs of the facilities by reviewing the improvements that were included in the 2018 referendum, but not included in the 2019 plan that was adopted. A subcommittee also met to consider installing a grass playground at the high school.
Nooney has gone through, building by building, proposed improvements, which are all detailed on the neighborhood website. Upgrading playgrounds and replacing faulty windows were among the upgrades to several of the district's seven schools – five elementary schools, as well as the high school and middle school.
During the heat of September 2017, Nooney said, the fiberglass windows installed at the high school in 2007 "went off the track, fell into the classroom and broke." The repair, he said, involved "cheesy little plastic clips."
"It will end in court," Nooney said, adding, "I think we should replace him in this project."
All the windows in each school were checked last year to make sure each one could open, he said.
One of the main thrusts of the $ 17.4 million plan is instructional technology. Nooney screened a video on the Promethean panels. A 75-inch display at the front of a classroom, the Promethean Board allows students, each with a device, seated at their desks, to work collaboratively, interact with each other, and view their work on the big board.
Currently, 40 classrooms in Guilderland have Promethean paintings. The proposal would add another 150, for a total of 190, which is about half of the classrooms in the district.
Natalia LeMoyne, district coordinator for instructional technology, said teachers were asked about their technology needs. "Everyone wants one," she said of the Promethean boards. "They make learning easier," she said, noting that the district is "close to one-on-one," which means almost all students have a device like a Chromebook.
"We've come to a crossroads with projector-based technology," said LeMoyne.
Deputy Superintendent of Program and Education Demian Singleton agreed projector-based technology was outdated and said Guilderland's projector systems were at the end of their life.
Another proposed technology initiative would make district data more secure. Guilderland suffered a cyberattack in the spring.
"Virtualization will increase the security of our data," Nooney said, reading a statement. "This makes the management and monitoring of our data faster and more efficient, allowing a faster response to incidents, better security of our data by isolating it and adding storage space for redundant backup in the event of a cyber attack." . "
Nooney interpreted: "I kind of took it like, if this little box is attacked, you can isolate it."
While the pandemic forced all schools to focus on distance learning, it also led the Guilderland committee to propose the construction of outdoor pavilions in each school, 24 feet by 48 feet, for classrooms in open sky. After an initial denial from the state's Department of Education, Nooney said he would sue the state iad for these proposed pavilions.
While the capital proposal totals $ 17,442,474, an additional $ 2.5 million is proposed for an athletic field. The grass field would replace the current grass field, surrounded by the high school track, and would be used for football, field hockey, lacrosse and soccer for boys and girls, Nooney said. The grassland and track project would be done under contract with the state, Nooney said.
If the proposal is accepted, Nooney said, $ 448,000 is already included for delayed work on the playground and track, which would become unforeseen.
Since bids on the current capital project have been lower than expected, Nooney said, the committee recommended spending $ 1 million to $ 1.2 million to replace four aging boilers in elementary schools.
"The money is there," he said.
Several school board members – President Seema Rivera as well as members Rebecca Butterfield and Blanca Gonzalez-Parker – wanted to include air conditioning in the proposal, aware of the importance of filtering the air during the pandemic. This is one of the permitted uses for federal funding.
The cost of cooling a single classroom could range from $ 7,000 to $ 12,000, Nooney said. He also said classrooms with students with special needs have top priority for air conditioning.
Nooney said he would provide school board members with a map that might surprise them, demarcating the currently air-conditioned rooms.
Other business
In other matters as of July 1, the school board:
– unanimously re-elected Seema Rivera as President and Gloria Towle-Hilt as Vice-President, while Rivera, Gonzalez-Parker and newcomer Nathan Sabourin were sworn in;
– I learned from Wiles that after Guilderland was "unexpectedly" awarded $ 640,000 from the state for preschool classes, he issued a request for proposals – because there is no 'internal space for the new program – and plans to award a contract at the end of the month;
– I heard from Towle-Hilt that school librarians are concerned that library clerks were cut from the budget in 2011, hampering the work of librarians. Towle-Hilt said librarians "play a crucial role, not only with students but in collaboration with staff," and recommended serious consideration of reinstating clerks in the 2022-2023 budget. Wiles said it would cost around $ 250,000;
– Likewise, Gonzalez-Parker has heard that she would like Guilderland to find a school resources manager, both in middle and high school. The current single officer, a member of the Guilderland Police Department, she reported, says he doesn't have time to engage with students as much as he would like;
– I heard from Wiles that the district is awaiting advice from the state on whether or not schools will be required to provide distance learning next year. If so, she said, it would likely be done through the Council for Cooperative Educational Services. Gonzalez-Parker said she believes the district needs to prepare for people who are uncomfortable with being vaccinated.
The meeting opened with a public comment from the stepfather of a student whose biological father would not let her get the vaccine; he urged the school to demand it. Wiles replied that it was up to the state, not the district; and
– Wiles also responded to a complaint from a parent that Y's Time, an after-school program run by the Guilderland YMCA, which took place at Lynnwood Elementary School last year, will not be held there in 2021- 2022. Wiles said the limited space in Lynnwood would not allow it. Last year, there was room because the marching band, orchestra and intramural were not offered.